A Powerful Combination: Leveraging VMware with ServiceNow to Automate IaaS
The growing impact of Infrastructure as a Service (IaaS) adoption is being felt throughout enterprises in virtually every industry. And with the ever-increasing range of new tools and technologies becoming available, organizations are able to accomplish more with IaaS than ever before. What has changed, however, is that organizations with high maturity around infrastructure are finding it difficult to shift from successfully established practices toward newer solutions that can increase both scalability and deployment speed. Fortunately, with the use of plugins and a little elbow grease, the switch from manual deployments to automation can be accomplished without tremendous effort. Here, we'll demonstrate the ease of use between ServiceNow and VMware Aria Automation (formerly vRealize Automation) and how this combination can provide organizations with a more efficient way to manage their infrastructure. 
Keeping It High Level
Before diving into the technical specifics, let's examine the big picture by highlighting some of the capabilities of ServiceNow as well as the tools available to VMware Cloud users.  
ServiceNow is a powerful enterprise service management platform, offering Service Catalogs where users can host and simplify product orders, track incident management, house change processes, maintain all devices within the CMDB, and leverage a number of powerful automation tools. ServiceNow's ease of use is a massive benefit to enterprises, making it simpler to develop and deploy applications that hook directly into ServiceNow instances. VMware Aria Automation is one such example. Using the two, users can set up catalogs to order and deploy IaaS systems, implement change policies, maintain and update CMDB, and build reports and metrics around deployed systems. There are three main components to this: The VMware Aria Automation Plugin, the ServiceNow Service Catalog, and the ServiceNow Flows. Let's dive into each one briefly: 
VMware Aria Automation Plugin 
This is a plugin—developed and maintained by VMware—that allows users to link to their existing VMware Aria Automation deployment instance and create catalog items that have workflows behind them which include all deployment steps as well as server actions for any given server type. For example, if you are deploying AWS Machines, you can set up automation to deploy the server, give its name, CPU count, and disk size, and implement and import it to any existing availability zone to ensure you have the appropriate coverage between all defined availability zones. 
ServiceNow Service Catalog 
The Service Catalog hosts all available services provided by IT or engineering teams to the business – from managing distribution list access to ordering a new computer. Using this in tandem with the VMware plugin, users can order servers from ServiceNow. The ability to directly interface with the plugin also makes access more widely available. Of course, access can also be limited based on user identity, role in the organization, groups, or even more granular conditions.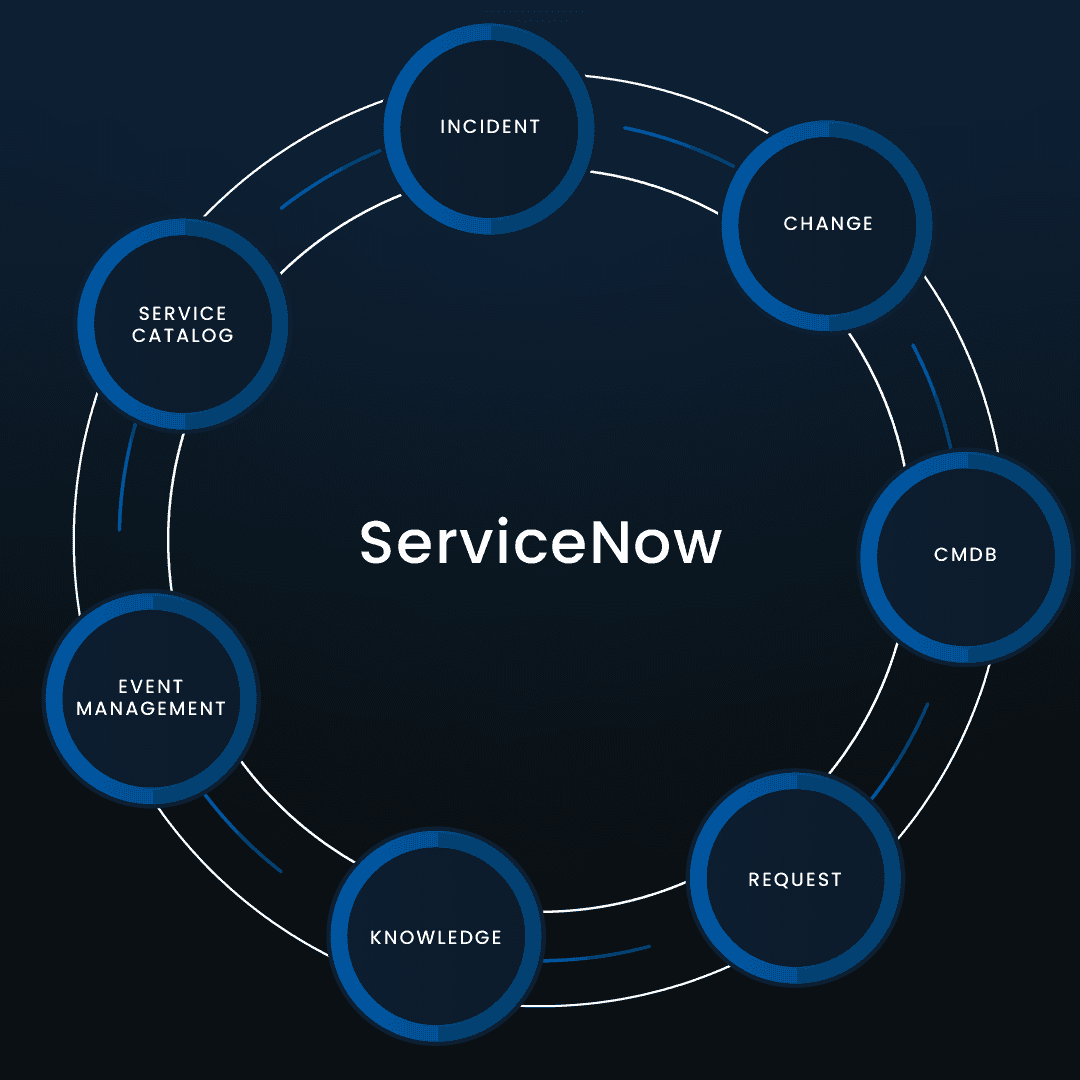 ServiceNow Flow 
Despite its slight learning curve, ServiceNow Flow is a powerful tool capable of automating entire sections of your process. Targeting actions that require manual effort, Flow helps businesses improve the quality of life for engineers and IT staff by allowing them to focus on the higher priority items that arise in their day-to-day. For example, it's fairly common for organizations to have a process necessitating that all deployments to go through a change advisory board (CAB) before a new server can be spun up. Rather than requiring teams spend hours each week creating those change requests by hand, ServiceNow Flow can be utilized to submit the changes automatically once a standard change template has been created.

Going Deeper
Using the above diagram as a reference, let's take a more in-depth look as to what each function above is doing:  
VMware Aria Automation 
With the VMware plugin, users can set server actions, create new servers following set deployment steps, create backups, increase the memory, increase CPU count, and more. Organizations develop their steps within the VMware platform and make the required customizations. VMware's built-in blueprint and WebUI can then be utilized to address workflow capabilities, subscription services, and workflow and deployment actions – all with the ability to write custom logic using JavaScript, PowerShell, or Python.
Using YAML, users can create custom tagging (including tagging constraints) and define and configure resourcing for the machine, the network, disk, or computing. From there, VMware Aria Orchestrator workflows—which operate similar to ServiceNow workflows—can be built. Once all designs and workflows have been created, simply set up pre- and post-deployment subscriptions, assign it to the appropriate projects, and define the order for them to run.
Once designs have been set using the Aria Orchestrator tool, they can be published over to the Service Broker. From here, the plugin handles the rest. 
ServiceNow Service Catalog
After blueprints and catalog items are created and established within Aria Automation, VMware's plugin takes those defined catalog items and exports them to the ServiceNow Catalog without any need for additional customizations. Using the existing catalogs and categories, admins can organize these catalog items into different categories according to the requirements of the business. From there, users can order servers using the options previously configured on the Aria Automation platform. This enables the two systems to sync, as any changes made on the Aria Automation platform (e.g., new items or changes made to existing items) will be reflected in the ServiceNow Catalog. On the ServiceNow side, users can add variables/variable sets to catalog items, adjust how they appear on the UI side, add any UI policies or client scripts, and adjust access limits based on users or roles.
ServiceNow Process Flow 
Using ServiceNow's powerful workflow engine, users can tie existing processes into how the catalog functions. Spinning up change requests, creating discovery runs for newly created servers, and discovering all requested server changes can all be done without the need for user input or manual effort from engineers or ServiceNow developers. 
If an organization is utilizing orchestration to run AD tasks or install software automatically, these actions can be tied together outside of Aria Automation, preventing the need to whitelist Aria Automation on the network or introducing new security risks. Using ServiceNow and VMware Aria Automation, all aspects of creating IaaS are automated and more efficient than ever before.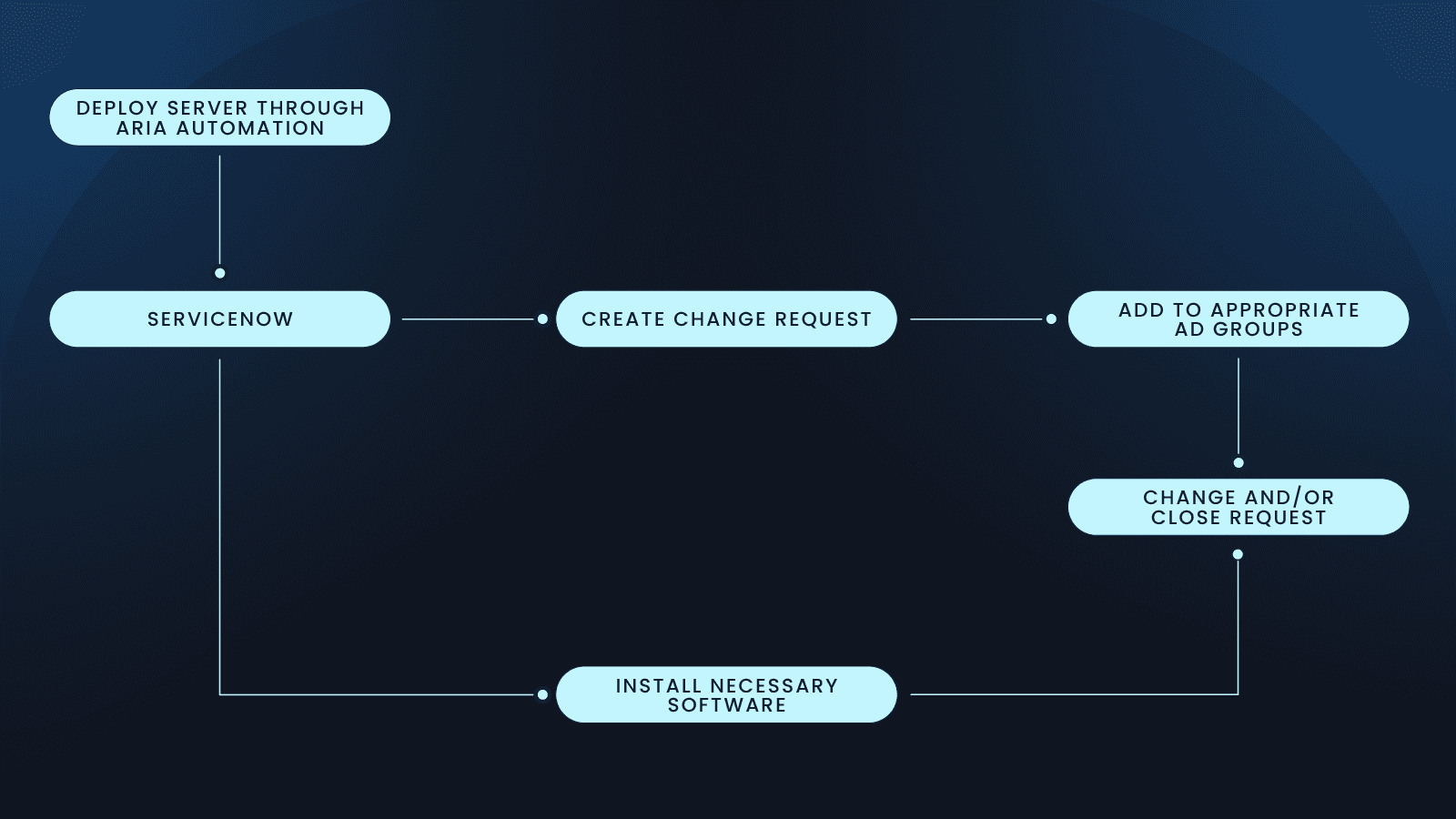 Wrapping Up
Utilizing VMware and ServiceNow in tandem has never been easier. Leveraging the full suite of capabilities from both tools will allow organizations to deploy and manage infrastructure without interrupting established processes, leaving engineers and the business as a whole to focus on more vital day-to-day activities. 
To learn more about how AHEAD can help your organization leverage ServiceNow and VMware to strengthen and scale your infrastructure process flow, get in touch with us today.
Author: Corbin Ervin, Technical Consultant