The Future Lives in the Cloud
We modernize infrastructure – helping architect, migrate, and deploy workloads across the hyper-scalers, data centers, and edge locations to be flexible enough to match the ever-changing needs of our clients. Our approach to cloud modernization and migration meets our clients where they are on their public cloud journey to ensure maximum efficiency, security, and reliability. 
Explore some of the core cloud solutions we work on
Modernize your cloud environment to enable workloads and applications to run more efficiently than ever.
Determine the right workloads to move, how to move them, and most importantly, how to operate them once they get there
Gain insights into existing cloud spend, forecast where your spend is going, and optimize existing cloud deployments.
Implement industry best practices built on a secure, scalable, and optimized platform.
Top Partners
We partner with more than 200 leading innovators, including the top players in cloud technology.
---
AHEAD is an AWS Premier Consulting partner, having attained the Migration, DevOps, Storage, Networking, Digital Workplace and Data Analytics Competencies. The designation recognizes AHEAD as an AWS Partner Network (APN) member who delivers both technical proficiency and proven client success with AWS.
---
Advise, Transform, Operate
Example Services for Cloud
We execute dozens of specialized services across our core cloud solutions. Whether through Advisory Services like assessments and strategy planning, Transformation Services like modernized deployments, or Managed Services like environment monitoring and support, we have tailored, end-to-end offerings to aid your cloud initiatives.
01
Cloud Foundations Healthcheck
Review your cloud environment against best practices and collect remediation recommendations
02
CICD Pipeline Implementation
Architect and design automated application build and deployment process, following best practices
03
Optimize solution footprints, manage existing workloads, and provide complete turn-key solutions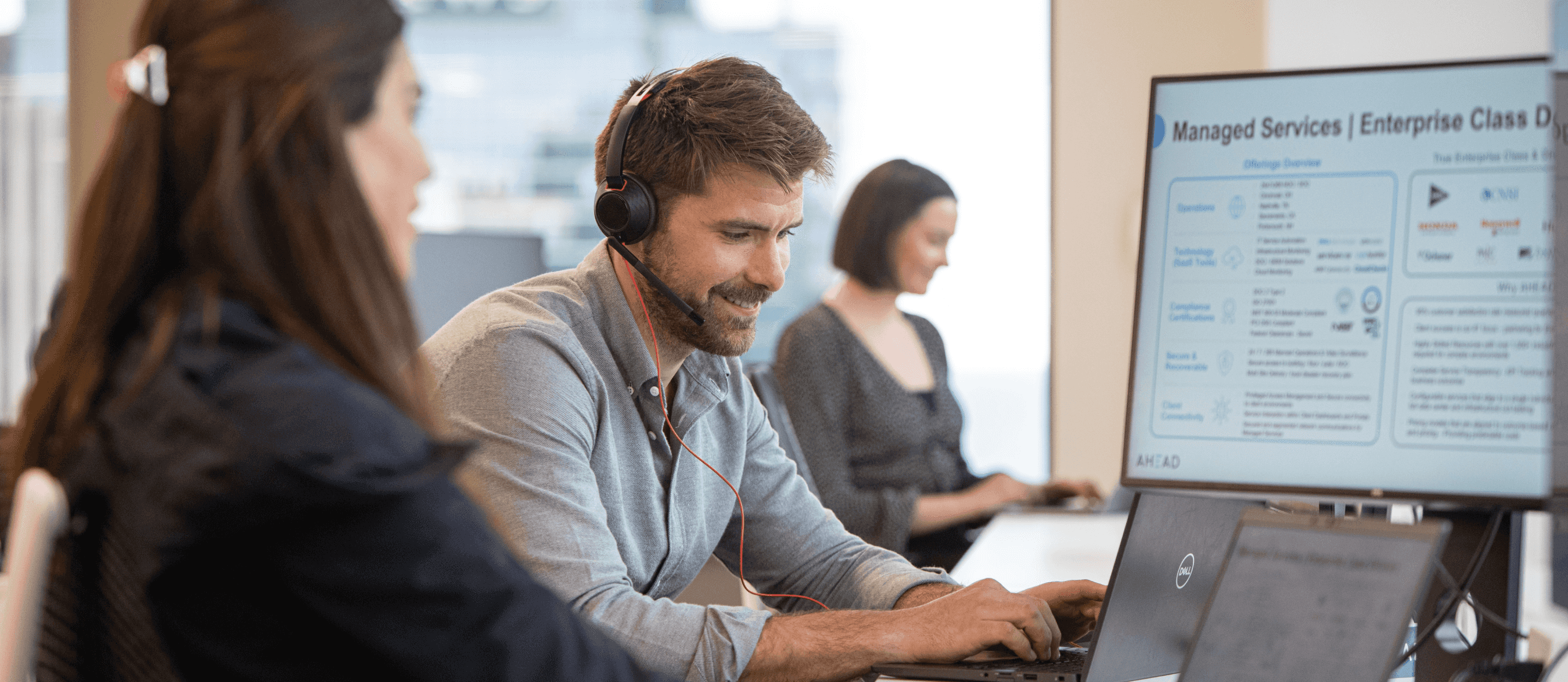 A proven cloud adoption framework that streamlines and simplifies your organization's move to the cloud. It is a customizable framework that leverages repeatable processes, tools and expertise. Cloud Catalyst incorporates the planning, design, and technology necessary to quickly transform your organization to capitalize on getting the most out of AWS, Azure and Google Cloud platforms.
Speed
Accelerate innovation and market expansion and deliver consistent user experiences globally.
Efficiency
Reduce business costs through improved acquisition and retention of customers, while reducing the cost of IT by leveraging the rapidly declining cost of cloud services.
Agility
Deliver flexibility & consistent experiences, at scale. Provide a "fail fast" and inexpensive option to innovate.
Cloud Platform Client Stories
American Medical Association
American Medical Association (AMA) wanted to provide their developers with a platform that would enable them to consume AMA's APIs and build applications but needed help with automation workflows and implementing additional AWS services for this platform.
In addition to building out AMA's initial AWS environment and helping them meet HIPAA compliance requirements, AHEAD was engaged for their new digital platform.
We changed AMA's approach through Infrastructure as Code (IaC) and built a foundational library with defined desired services and feature sets for different applications. The focus shifted to best practices for code management and data lake for the new platform.
This engagement enabled AMA to release a higher-quality product and be more secure, agile, and quicker to market.
WWE
World Wrestling Entertainment (WWE), is an award-winning integrated media organization, a leader in global entertainment, and the largest wrestling promoter in the world.
To streamline efficiencies, WWE needed help building out a data warehousing environment. AHEAD built out a data warehousing environment and data pipelining platform, all within AWS.
AHEAD deployed data environments through infrastructure co-templates in the native public cloud providers in a fast and efficient manner. Additionally, AHEAD helped WWE optimize its spending by ensuring the organization only gets billed for the products and services they are actively using.
Sharp Healthcare
Sharp Healthcare is one of San Diego's largest not-for-profit healthcare systems providing medical services in all fields of medicine across four acute care hospitals, three specialty hospitals, three medical groups, and a health plan. Seeking to develop a robust cloud strategy, Sharp partnered with AHEAD to ensure the success of its digital journey.
After a series of foundational engagements, working with CIO to clarify the value of cloud migration and addressing concerns regarding cloud connectivity and performance with the usage of latency-sensitive applications, AHEAD crafted the right strategy for Sharps' cloud journey which included: network assessment, FinOps, cloud foundations/automation, EMR migration, and AWS Environment setup for Data and Analytics.
Over the past two years, AHEAD has worked in tandem with Sharp Healthcare to advance cloud initiatives and deliver precise outcomes.
Lurie Children's Hospital
Faster and More Accurate Patient Diagnosis via Game-Changing Cloud Technology
Ann & Robert H. Lurie Children's Hospital of Chicago provides superior pediatric care in a setting that offers the latest benefits and innovations in medical technology, research and family-friendly design. Lurie was considering the public cloud to power new capabilities in research and treatment, but they faced limited bandwidth and skills related to cloud, security, and compliance.
AHEAD built a cloud operating model and deployed AWS foundations for governance, security, and cost-optimization. We also deployed containers within AWS to provide the processing power needed to manage and analyze Lurie's rich and complex data sets. The Lurie team is now able to provide faster quality treatment to patients, and Lurie's cloud-based genomic sequencing capabilities allow them to diagnose patients much faster.
First Merchants Bank
Accelerating Success with Ongoing Cloud Managed Services 
First Merchants was in an aggressive growth and acquisition mode, but their legacy operating model was unable to efficiently take on the various platforms and workloads of the financial institutions they were acquiring. They wanted to extend their data center to quickly start leveraging cloud operating models that modernized their technology approach, with the goal of eventually working their way into the cloud over the next 3 to 5 years, while also having a data center footprint by employing a hybrid cloud model. AHEAD's relationship with First Merchants began with a two-day visioning workshop during which it was discovered that an agile, native AWS approach was much better suited to their business, operations, and budget. 
Through close collaboration, AHEAD was able to expedite the cloud journey due to the increased knowledge and skillsets of the combined teams. This allowed the AHEAD team to reallocate those dollars and quickly shift the project focus to accelerating the migration-strategy phase. AHEAD also recommended SCPs for limiting deployment to approved Regions, and implemented a strategy for deploying users and roles for SSO configuration. 
Caribou Coffee
Azure Migration & Modernization 
Caribou Coffee (Caribou) was facing a large-scale technology refresh and aimed to mature and modernize their technology capabilities. Simultaneously, Caribou sought to provide a more standardized and agile approach to providing technical services across Bagel Brands organizations. AHEAD led an orchestrated rationalization of Caribou's digital estate and workload portfolio. AHEAD helped Caribou develop a Cloud Operating Model and adopt infrastructure as Code approaches to deliver and support Azure Services. 
Caribou saw significant cost savings of $800K over 3 years and increased efficiency as a result of its migration to Azure.  Caribou now has a functional and scalable Azure environment to support Bagel Brands businesses leading to increased efficiency and overhead reduction. Their technology capabilities are matured and modernized through PaaS Refactoring and Infrastructure as Code. 
Harley Davidson
Azure Launchpad for Security and Scalability 
As part of Harley Davidson's (H-D) cloud-first initiative, Ride the Sky, their application team was looking to migrate workloads to Azure. But their legacy environment didn't have the governance and security posture they needed to meet immediate business objectives or accommodate future growth. H-D engaged AHEAD for cloud best practices and to increase its governance and security posture. 
AHEAD configured enterprise-level management of security and governance for the organization. The implementation of Azure Management and DevOps Strategies helped better define workload processes through automation.  
TennCare
Delivering Powerful and Comprehensive IT Strategy, Development, and Operations Support
TennCare is the state of Tennessee's managed Medicaid agency focused on improving lives through high-quality, cost-effective care. TennCare was frustrated by the lack of accountability and leadership with their (now) former external IT management vendor and were seeking a new Operations and Management (O&M) Partner to support the ongoing daily IT operations and system enhancement requests.
AHEAD's ServiceNow expertise combined with an industry-leading Managed Services team has taken on TennCare's O&M activities, addressing immediate issues and gaps left unresolved by the prior vendor. In addition, AHEAD is collaborating with TennCare's leadership to build long term growth and operational strategy using the latest technology and results-oriented services professionals.
Consumers Energy
Increasing Application Performance and Improving Customer Experience
Consumers Energy is a public utility that provides natural gas and electricity to 6.7 million of Michigan's 10 million residents. They use smart meters to receive total household energy usage data that is used to generate energy bills and forecast usage. These measurement systems were experiencing frequent outages, and the Consumers team couldn't identify the root cause.
AHEAD deployed AppDynamics to monitor and improve performance of key applications, including dashboards to provide application and business owners' insights into performance. We also provided integration with ServiceNow to speed incident response and remediation.
Consumers Energy now has the monitoring strategy, metrics, and real-time visibility needed to prevent outages, improve user experiences, and comply with industry requirements.
AdvantEdge Digital
Self-Driving IT Operations Management
AdvantEdge Digital provides data and analytics to credit unions across the U.S., but deploying its services was too time consuming and resource intensive. Furthermore, credit unions frequently lack analytical scale and talent, so AdvantEdge had to differentiate its analytics services by making them more accessible and actionable. The solution was an advanced automation solution involving Azure, Chef, Palo Alto, Meraki, and ServiceNow resulting in a new, cloud-based analytics offering, and onboarding times that dropped from a month down to a couple of days.
Credit Acceptance Corporation
AWS Cloud Foundation that Enables Scalability 
Credit Acceptance Corporation (CAC) has a loan origination app that makes up a significant portion of their business. This busiest part of this business happens during the same time as tax return season. In order to meet demand, CAC wanted to scale to a higher quantity of loan origination requests, but their data center infrastructure was limiting their scalability. Through a series of discussions, AHEAD determined CAC's success criteria and built a design for their cloud foundation in AWS. This POC included operational best practices, a new, container-based architecture for the application, and an assessment of their security's current state and how they could elevate their level of security. 
With the proper cloud foundation in AWS, CAC is able to leverage AWS services and their scalability to meet the demands of their customers while protecting sensitive data. AHEAD continues to enable CAC through education and initiative acceleration assistance. 
Mortgage Connect
Implementing VMware Cloud on AWS for DR
Mortgage Connect was closing one of their data centers with plans to relocate equipment to another location over 1000 miles away. The planned decommission, relocation of existing equipment, and testing of infrastructure would take many weeks. Mortgage Connect needed to ensure availability of the DR Horizon VDI infrastructure during the migration period. AHEAD was engaged with Mortgage Connect with only 21 days before the scheduled decommissioning of the data center.  
A fully functional Horizon VDI environment was successfully deployed in 9 days enabled by a working partnership between Mortgage Connect, AHEAD, and Fulcrum Point Technologies. This allowed for 3 days of testing and validation before the decommission of Mortgage Connect's data center. As a result, this enabled Mortgage Connect to confidently spin down their on-prem DR VDI environment and rely on VMC in the event of a disaster. 
City of Chesapeake, VA
Asset Identification and Management Partnership 
The City of Chesapeake was facing a twofold challenge: 1) Assessing hardware & software vendors in the marketplace to find cost-effective capabilities that align with City needs, 2) Guaranteeing this investment would continue to support the long-term plans & technology needs of the City. AHEAD deployed a replacement core infrastructure utilizing commodity hardware while managing the infrastructure with automation tooling available from VMware and VCF. This was a multi-pronged approach to address the technology selection and deployment on a tight timeline. 
Workshops with key stakeholders enabled the creation of a Strategic Technical Roadmap, highlighting technology investment & iterative advancement of IT capabilities needed to support the City's long-term goals. Deploying this Hyperconverged Infrastructure with advanced automation capabilities laid the foundation for the City of Chesapeake's current and future IT operations. In addition to providing strong automation and speed for IT service delivery within the City datacenter, this same platform extends its operational control to the Public Cloud, enhancing the availability and resiliency of City services within the same consolidated controls that IT now enjoys. 
Avenu Insights & Analytics
Azure Migration for Scalability and Portability
Avenu had acquired another company that had an Azure foundation. That company had a pay-as-you-go payment plan, paid for by an individual employee instead of the IT team. In addition to this payment plan, Avenu recognized that the application they were using was not sustainable from a cloud perspective. This application hosted multiple different web pages for its clients. These pages needed to scale to meet the needs of each individual client. First, AHEAD designed and deployed an initial enterprise framework. Next, Avenu's current application was migrated out of VM into Azure Web Apps.  
AHEAD helped Avenu successfully implement and migrate to an Azure Framework and their applications were brought under enterprise governance. The responsibility of managing Avenu's public cloud was shifted to the IT department, making them the gatekeeper to public cloud services. As a result, Avenu was then able to deploy a cloud framework that would grow their Azure footprint over time. 
One of the World's Oldest Banks
Powering a Revolutionary, Secure and Redundant Digital Asset Custody Platform
As one of the world's largest custodian banks with over $43T in assets under administration and service, Client was looking to serve the evolving needs of institutional clients exploring and investing in cryptocurrencies, and needed a highly secure, powerful and redundant infrastructure solution to power their new digital asset custodial service.  The first of its kind in the marketplace, AHEAD was asked to design, build and implement a solution under aggressive timelines for a Fall 2022 launch.
AHEAD is a long-standing technology partner of Client, with deep understanding of their infrastructure and high security standards. After consulting with the Client and key fintech security and compliance vendors, AHEAD devised 4 PODS to reside in the Client's multi-site datacenters featuring components from Dell and Cisco to provide secure, robust and redundant performance.
BAM
Creating a More Predictable, Secure, Public Cloud
An early pioneer in the public cloud, global investment firm BAM faced rising cloud costs and a lack of visibility into its AWS operations. Being in financial services, the firm also required a mechanism to ensure continuous compliance of the environment. Deploying its CoPilot Cloud Optimization and Governance Solution, AHEAD provided ongoing analysis of AWS performance, enabling BAM to monitor compliance every 15 minutes and dramatically improve its compliance posture. BAM projects 20% savings based on rightsizing and reserved instance recommendations from CoPilot alone.
Prime Therapeutics
Rapid Deployment of a Cloud-based Business Analytics Platform on Google Cloud
Prime Therapeutics is a leading pharmacy benefit management (PBM) firm owned by 18 not-for-profit Blue Cross and Blue Shield health plans across the United States.
Prime Therapeutics had developed a new data and analytics platform, critical to their business operations and growth strategy. Soon after selecting Google Cloud Platform (GCP) to host it, Prime's leadership accelerated the project's go-live date, requiring IT to onboard data and the new analytics platform in just six weeks. Prime's IT team realized they didn't have the skills in-house to deliver on the new timeline, so they called AHEAD.
AHEAD quickly conducted a technical assessment, creating a rapid development and deployment plan that met leadership's accelerated timelines.  The plan included peer-shadowing routines designed to train up the Prime IT team on design and implementation, ensuring self-sufficiency post-launch.
In addition, AHEAD incorporated additional cybersecurity measures into the new GCP environment to ensure Client's data environment exceeded HIPAA compliance standards.
Link Logistics
Link Logistics had been experiencing business challenges because of a lack of senior management and reporting. The organization had inefficient, ad hoc IT practices, with no data product ownership whatsoever. AHEAD helped implement enterprise-wide capabilities to show locations, tenant information, leasing statistics, financials, and forecasting via a single application. 
This implementation provided Link Logistics more visibility through a more reliable application. As a result of the consolidation of access to the organization's data, automated efficiencies are now in place and successfully being managed by a new, trusted analytics team. 
PTC
Cost Savings Through Cloud Optimization
PTC had $20 million dollar annual run rate in AWS. Acquisitions had created significant cloud sprawl and a lack of governance left them with little control over their cloud spend. Their legacy cloud partner had little incentive to help PTC reduce their cloud spend. AHEAD provided a unique offering to help PTC save revenue, helping them optimize their resource consumption and realizing over 15% savings in the first month.
State of Wisconsin
Speed and Collaboration Across Agencies
Wisconsin's Department of Transportation couldn't innovate due to slow processes, and the requirement to rely on a different agency for even simple server builds. Interagency disagreements over tools for cloud development and development hosting, compounded things. AHEAD helped create a model to facilitate sharing between agencies to improve trust, and centralize service delivery for common elements of the DevOps pipeline and infrastructure, leading to overall outcomes of better inter-agency cooperation over cloud onboarding, development, and information sharing.
Lowes
Streamlining Secure Infrastructure Access Through Automation
Lowes was looking to drive more automation through their enterprise, but ran into challenges with providing secure access to their infrastructure. Without a way to manage credentials, their enterprise automation strategy would always require manual intervention. AHEAD brought our experience with Hashicorp Vault to implement a solution where credentials could be securely accessed by automation toolsets, which removed a major blocker for Lowes team members. Lowes was able to reduce operational burden on their teams by automating regular tasks through secure methods.
Rockwell Automation
Using Automation to Reduce Provisioning Time
Rockwell's mission is to improve the quality of it customers' lives by making the world more productive and sustainable. But the IT organization at Rockwell was having difficulty deploying temporary environments, with virtual environments taking far too long to reach its customers. The firm partnered with AHEAD on a hybrid cloud solution, including VMware vRealize Suite adapted using automation and orchestration for Windows and Linux. The resulting environment could much more readily respond to customer demands from a dramatic reduction in provisioning of new business services.
Genuine Parts Company
VxRail and vRealize Roadmap and Implementation
Genuine Parts Company sought a simpler and more streamlined process for fulfilling IT requests. AHEAD created an infrastructure automation roadmap, including VxRail Hyperconverged infrastructure and vRealize Automation (vRA), integrated it with software for extensibility, and built a ServiceNow service catalog to simplify the end user experience.
MGIC
Greater Visibility and Reduced Downtime Through Intelligent Operations
MGIC set two goals for 2020: Increase their business agility through IT modernization to help them compete with new technology-forward players in their industry, and reduce their unplanned downtime which was directly impacting their reputation with partners and clients.MGIC worked with AHEAD to adopt our Intelligent Operations recommendations, and we implemented ServiceNow ITSM to help MGIC manage their changes and reduce unplanned downtime through tighter change controls. AHEAD also helped MGIC implement a set of modern monitoring toolsets to give their team greater visibility into their infrastructure health. This ultimately resulted in fewer customer-impacting outages and more time spent on modernizing their application and infrastructure portfolio.
Allstate
Enabling Innovation Through Automation
As a very large organization, Allstate experienced heavy demand for virtual environments. Requests typically came in an ad-hoc manner with little visibility into the provisioning process, a process that involved several manual steps. AHEAD partnered with the insurance giant to deliver virtual machines in an automate, self-service manner, freeing up IT resources to support more innovative projects, resulting in faster provisioning of new business capabilities in support of innovation.
Singing River
Matured Security and Monitoring Through Managed Services
Singing River is a major healthcare provider in the Southern US. As a healthcare provider, they manage the healthcare data of hundreds of thousands of patients, and were acutely aware of the rise in ransomware attacks against organizations like theirs. As they looked at their internal capabilities to combat these attacks, they knew that they would need a strategic partner that could bring in 24×7 coverage and a team of experts to help them.
AHEAD was brought in to assess Singing River's security posture. Through a series of recommendations, we helped to mature their approach to security. We also provided a strategic Managed Security Service, where AHEAD's 24×7 SOC monitors Singing Rivers systems for signs of attack, along with proactive weekly and monthly improvement sessions to help Singing River continue to enhance their information security.
The resulted in reduced risk of cyber security threats, improved service quality for their security team, and a dramatically reduced mean time to respond to security events
Rush University Medical Center
Multi-Partner Data Center Refresh
As a result of a critical outage, Rush University Systems for Health (RUSH) sought to refresh their entire data center from the ground up. As a component of the refresh, the Rush team also wanted to update its networking components from ACI to NSX. RUSH brought in AHEAD team to navigate the complicated multi-partner landscape, including VMware, Cisco, Dell, and IBM.
Northside Hospital
Platform for Merger & Acquisition Integration
Northside Hospital is an extensive network of state-of-the-art facilities in Atlanta and Northeast Georgia. In late 2019, Northside and Gwinnett Health System completed plans to combine operations. AHEAD helped integrate their Exchange environments, implement ServiceNow into both companies, and modernize both companies' Isilon storage environments.
Medtronic
Increased Agility and Innovation
Medtronic is committed to transforming health care. But the company's digital platform was falling behind in the marketplace. And like many companies competing on innovation, the firm faced tool and cloud provider proliferation, and longer than acceptable lead times for fixes and new features.
AHEAD partnered with Medtronic to standardize on a single CI/CD process focused on Azure DevOps and to introduce a new DevOps culture to bridge infrastructure and development teams, all while simplifying processes. This resulted in dramatic improvements in time to deliver new software, and a new culture in IT emphasizing accountability and collaboration.
Community Health Systems
ServiceNow CMDB Restructuring
As a leading health system with approximately 17,000 beds, CHS has been a longtime ServiceNow user, but experienced challenges with platform adoption due to data cleanliness issues. AHEAD restructured the CMDB first by cleaning excess listings and data, then by developing and implementing a new naming protocol for assets. We also implemented discovery modules and integration of third-party tools to maintain proper CMDB hygiene going forward.
Altus Biologics
Leveraging Data and Analytics @ Scale
Altus was rapidly growing and wanted to leverage large amounts of data from multiple departments to build scalable, elastic solutions that would increase both transparency and opportunities for the business.
AHEAD designed, built, and implemented an AWS-hosted Analytics Hub environment with customizations and components including a RedShift data warehouse, automation of data pipelines, integrated security, fault tolerance, and redundancy, resulting in their ability to identify operational efficiencies by having centralized and normalized data.
HUB
Migrating to AWS to Facilitate Growth
The acquisition of close to 500 insurance brokers over the past twenty years created an infrastructure sprawl that hurt HUB's ability to serve customers, respond to market changes, and continue to grow through acquisition.
AHEAD helped architect a new AWS-based infrastructure, including mapping business applications to AWS services and defining new networking requirements. After migrating 380 VMs (and eliminating 800 others) HUB can much more quickly integrate new acquisitions without acquiring legacy technology.
Federal Home Loan Bank
Automation to Accelerate Changes While Reducing Operational Risk
Federal Home Loan Bank of Des Moines is one of 11 regional Banks that make up the Federal Home Loan Bank System, providing a stable source of funding for more than 6,600 federally insured depository institutions.
Limited command and control of financial operations applications caused Material Weakness reports in the bank's 10-K filings that needed to be remedied quickly to avoid compliance penalties.
AHEAD deployed ServiceNow to automate and control operations, reducing errors and accelerating system changes. We then modernized their 30-year-old mainframe applications, adopting API-first DevSecOps processes, and upskilling the bank team on containers and microservices.
This new shared architecture unifies the application, infrastructure, and security teams and enables them to release better software faster.
Bob Evans Restaurants
Driving Innovation and Efficiency via Cloud Migration and Managed Services
Bob Evans Restaurants is a chain of family style restaurants founded and headquartered in Columbus, Ohio, which owns and operates nearly 500 locations in 18 states.
Client's aging infrastructure was due for an upgrade, as the businesses lacked IT flexibility, scalability and rock-solid cybersecurity capabilities. Executives decided to look at fresh alternatives to support their IT needs, including cloud computing and co-managed services to transform their IT capabilities.
AHEAD was deeply involved in the transformation, first providing guidance on cloud vendors, data migration, cybersecurity improvements and disaster recovery.  Once vendors selected, AHEAD engineered the cloud migration and implemented improvements, ultimately co-managing the entire infrastructure operation day-to-day with members of Client's IT team.
Fifth Third Bank
Building a Data-driven Business while Promoting Data Security, Regulatory Compliance and Scalability
Fifth Third Bancorp is a diversified financial services company, overseeing $207 billion in assets and operating 1,080 full-service Banking Centers across the midwestern and southeastern United States. Client was experiencing rapid growth causing them to  evaluate and scale IT capabilities, especially their ability to quickly derive business insights and make data-driven decisions across multiple areas of the business. The financial industry's high regulatory compliance and cybersecurity standards added complexity and pressure to the situation.
AHEAD collaborated with AWS and Snowflake banking industry experts to incorporate a Financial Data Hub architecture to consolidate data on a single platform, with built-in, industry leading data security and compliance capabilities to harness Client's enterprise data and deliver reporting and visualization tools to aid rapid, well-informed decisions. In addition, a pay-as-you-go financial model for cloud and storage provided affordable scalability.
Global Investment Firm
Large investment management firm renowned for their quantitative research driven approach to investment strategy. Client was looking to make strategic investments in their infrastructure and data capabilities to support the company's quantitative research teams who are the engine of the business with more powerful, creative and seamless computing and data administration capabilities while modernizing and simplifying their IT infrastructure and data storage.
In partnership with NetApp, AHEAD positioned a pair of AF400 arrays to replace the aging Dell 450F systems at 2 of Client's data centers. In addition, AHEAD implemented NetApp's Cloud Volumes ONTAP for DevOps to automate workflows for research needs alongside current Azure Container Instance and data pipeline work.
The Client now has a proven and robust unstructured data storage solution that will enable their quantitative data research teams to work faster, more creatively and with an innovation mindset that drives business growth and market insights.
Change Healthcare
Modernizing ITOM and ITSM to Improve High-volume Data Systems Monitoring and Responsiveness
Change Healthcare provides data and analytics-driven solutions to improve clinical, financial, administrative, and patient engagement outcomes in the U.S. healthcare system.
As an industry-leading healthcare data clearinghouse, Change Healthcare handles hundreds of millions of dollars in transactions every minute. System uptime is critical, so issue visibility and response times are vital to their business. Their legacy on-prem BMC ITSM platform was underperforming and because of technical and process debt, it was also expensive to manage and maintain.
AHEAD partnered with ServiceNow to design and implement new ITSM and ITOM capabilities, each with aggressive time to value schedules. ITOM was done first (CMDB + Discovery on-prem and AWS) as a foundation for outage remediation in only 10 weeks. Change Healthcare is now able to identify and remediate performance issues faster, improving uptime and customer productivity.
Automative Services Corporation
Client is the largest automotive services company in North America, providing consumer and commercial automotive needs, including paint, collision, glass, vehicle repair, oil change, maintenance and car wash.
As a high growth business, Client is opening hundreds of new locations across their portfolio of companies every year, in addition to an aggressive M&A strategy to acquire more brands.
Leadership was looking to evolve beyond 2 datacenter setup, and saw they cloud as the way forward. However, with little cloud experience and expertise, they needed a partner to guide them and provide the cloud strategy to supercharge their business.
AHEAD devised a strategy and financial plan to transition from pure datacenter to a hybrid cloud, using the AWS Migration Acceleration Program to move quickly and realize fast gains.
AHEAD also delivered a PODS/managed services engagement, enabling Client to focus IT staff on growth and not operations. Lastly, all new investments route through AWS Marketplace, enabling Client to operationalize financial commitments to AWS more effectively.
Sports Betting Technology Company
Client's tech-centric business is growing rapidly, requiring IT agility and motivating senior leadership to invest in a cloud-native approach to infrastructure and skilled workforce.
Client needed to understand infrastructure readiness and financial implications to rapidly scale their infrastructure and applications on AWS to meet the needs of the business.
AHEAD's cloud team conducted a thorough Cloud Suitability Assessment, delivering a clear and actionable plan to Client leadership. AHEAD's Assessment detailed how Client could migrate to AWS's cloud environment and the financial, operational and technical requirements needed to do so successfully.
Leading Furniture Manufacturer
Client engaged AHEAD to modernize their infrastruture, consolidating and updating 2 legacy data center locations and migrating their primary enterprise workloads to the cloud in partnership with Microsoft Azure.
AHEAD provided consultative guidance on Client's "lift and shift" project to quickly move 337 virtual machines out of the Client's aging data canter and into Microsoft Azure. Next, AHEAD led the consolidation of Client's two data center locations, modernizing the new single location and minimizing downtime. The new cloud-based environment enables IT to respond to the needs of the business with speed, reducing development times and provisioning workloads faster.
Global Nonprofit Healthcare Org
A global nonprofit organization in the healthcare industry had a rigorous vulnerability management policy that could not be met, significant vulnerability debt, in addition to lacking visibility of business context and true risk. AHEAD helped them realize a truer depiction of vulnerability risk, which enabled the organization to drastically reduce high severity vulnerabilities, and to focus limited resources on the vulnerabilities that posed the most risk. Additional interactions resulted in more work to assist the organization in refining their CMDB.  
Automobile Components Manufacturer
Client saw the opportunity presented by the public cloud to drive speed, agility and flexibility in their business. However, their enterprise workloads were deeply rooted in the datacenter, so they needed assistance understanding cloud migration impacts (and pitfalls), devising a proper migration strategy and securing the right technical resources to make the migration a reality.
AHEAD's Cloud Practice team conducted a Cloud Migration Readiness Assessment as a first phase to understand the feasibility, financial considerations and business value of shifting workloads to the cloud.
Next AHEAD's technology team leveraged AWS's Migration Acceleration Program (MAP) capabilities to engineer infrastructure and data migrations to AWS public cloud.
Client is now operating with greater IT agility and flexibility to respond to the needs of their business and end user clients. Migrating the enterprise to the cloud has significantly reduced Client's computing and infrastructure costs
Large Non-Profit Health System
Client is committed to proactively managing cybersecurity, a critical element of today's healthcare IT environment. AHEAD conducted a data security assessment and made recommendations to bolster Client's already robust security posture, adding layers of protection against ransomware and data exfiltration.
AHEAD implemented Dell's CyberRecovery Vault technology to effectively protect Client's data against exfiltration and ransomware attacks. In addition, Client expanded their Dell Data Domain and Isilon footprint to accommodate Client's rapidly growing data storage and management requirements. AHEAD was able to financially engineer a Dell Transformational License Agreement (TLA) for the Client to reduce costs. In the end, the client proactively improved cybersecurity posture and increased data storage to support business growth, while also funding improvements through financial engineering without incurring incremental costs.
Roadside Assistance Service Provider
As one of the largest providers of automotive roadside assistance and claims management services in the United States, the Client was struggling to manage and analyze commitments for their dynamic infrastructure and inefficiently scale their containerized and web-based services. After assessing Client's situation, AHEAD identified Spot by NetApp to resolve Client's scaling inefficiencies. The AHEAD and NetApp Spot teams identified and optimized 3 critical areas of Client's AWS infrastructure to optimize EC2, containers and commitments. Client is now managing all web services with NetApp Elastigroup, adopting NetApp Ocean across ECS and using NetApp Eco to manage their entire portfolio of commitments, enabling them to save over $500,000 per year, with the opportunity to increase savings as more Spot instances are added.
Sports Technology Firm
FinOps-as-a-Service Delivers Significant Cost Savings via Cloud Optimizations
Client is one of the largest and fastest-growing global provider of sports technology. Since its formation in 2016, Client has completed 26 acquisitions of market-leading sports technology companies. Through multiple acquisitions, Client inherited sub-optimized cloud accounts and configurations, needlessly wasting thousands of dollars of cost each month.
AHEAD was asked to analyze and validate acquired firm cloud environments using AHEAD's proprietary benchmarks and best practices to optimize workloads. AHEAD analyzed Azure workload subscriptions on a case-by-case basis to identify cost reduction opportunities. Using proprietary tools and methods, AHEAD extracted data and built a backlog of remediation tasks while monitoring workload changes to identify incremental savings. Based on Azure project success, AHEAD optimized Client's AWS environment to drive even more savings.
Healthcare System
Financial Consulting Identifies $17.3M Cost Savings and Accelerates Client's Cloud Journey
Client is a prominent healthcare system of 8 hospitals and 5,000 physicians located in the upper Midwest and sold their primary data center and needed a fast  migration plan, due to hard location exit deadlines. They saw the cloud as a solution to their data center challenge and as an opportunity to grow. They needed help compiling a CMDB to quantify assets and analyze current cost structures at the application level.
AHEAD engineers analyzed Client's environment and created a robust CMDB, including application mapping and a recommended portfolio disposition strategy. Once a model was established, AHEAD built a 5-year baseline financial model, by application, with consideration for depreciation and amortization cycles, accounting treatments, and Client-specific growth trends.  AHEAD also delivered a technical roadmap with detailed comparisons that calculate total cost of ownership (TCO).
Client also needed expertise in modeling costs for location vs. IaaS vs. public cloud workload options and building a technology roadmap aligned to financial benchmarks.
Healthcare RCM Tech Firm
Financial Consulting Identifies Significant Cost Savings by Consolidating On-premise Infrastructure
Leading healthcare revenue cycle management and payments technology firm serving over 450,000 providers, 750 health systems and hospitals, and 5,000 health plans in the United States. Client acquired a peer and wanted to consolidate on-premise data center operations to reduce redundancy and costs. Client lacked the financial and technical expertise to assess each location, quantify costs in detail, identify additions and upgrades needed to support consolidated workloads and model the financial impact of accelerating the evacuation of the secondary data center.
AHEAD analyzed Client's technical infrastructure and financial commitments to create a baseline and future-state financial model defining the impact of an accelerated data center evacuation.  The model included robust details like technical remediation and transformation recommendations, timing considerations, cash flow analysis and Cap-Ex / Op-Ex considerations
Non-profit Healthcare System
Making Strategic, Data Driven Decisions Powered by Financial Consulting Models
Prominent non-profit healthcare system in San Diego with 7 hospitals and 2,700 providers looking to unlock innovation, efficiencies and speed via the cloud. Client understood the benefits and opportunities presented by migrating their enterprise to the cloud but lacked the ability to effectively model costs to compare on-premise vs. public cloud business cases. In addition, they needed help defining a migration plan based on business impacts, resource availability and dynamic financial considerations.
AHEAD's FinOps team analyzed Client's environment, considering the technical and financial aspects of a large-scale migration project and developed a future-state financial model defining the impacts of a cloud strategy.
The analysis included detailed models for executives to understand strategic cloud migration project impacts like Cap-Ex / Op-Ex shifts, cloud ramping assumptions, on-premise cost decline by category and opportunities to optimize spend.
GALIC
Building and Managing IT Infrastructure to Help a New Corporate Spinoff Thrive
Client is a leading life insurance firm who was spun out of a larger parent company and acquired by another large insurance conglomerate, operating as an independent subsidiary. As a spinoff, Client had to acquire and provision their own IT infrastructure to support business operations, in addition to migrating key business applications and capabilities to function as a stand-alone business. They needed tactical guidance on building an agile infrastructure and ongoing assistance to operate it.
AHEAD has been deeply involved in the design and operation of the new infrastructure. AHEAD Professional Services devised a plan to migrate legacy operations to new infrastructure. AHEAD Managed Services now operates Client environment day-to-day, including: VDI/Remote Apps, Compute, Data Protection, Network, Storage, VMware, OS, Desktop Maintenance, Microsoft 365, Managed SOC, ServiceNow ITSM, and colocation management.
Luxury Jeweler
Modernizing a 185-year-old Luxury Retailer's Infrastructure to Meet Today's Consumers
Client's brand is world-renowned for luxury and style, but their environment was in dire need of modernization. Client's aging systems were difficult to manage and were unable to support the digital innovation initiatives the retailer needed to grow and serve their customers.
AHEAD blended seamlessly into Client's IT organization, closely collaborating with leadership and teams to plan and implement an infrastructure modernization initiative. The new hyper-converged environment is operated day-to-day by AHEAD's Managed Services team, who oversee servers, storage and the Client's global network.
Louisiana Workers Compensation Corp.
Modernizing Aging Infrastructure to Increase Organizational Speed and Efficiency
The Louisiana Workers Compensation Corporation (LWCC) is a private, nonprofit mutual insurance company and the largest workers' compensation carrier in Louisiana. LWCC's legacy 3-tier infrastructure was aging and inhibiting their ability to replicate to the public cloud.In addition to modernizing their infrastructure and integrating with the cloud, they needed the ability to spin up Q/A workloads without adding a separate infrastructure.
AHEAD provided an objective vendor analysis based on Client's requirements, ultimately deciding on a flexible and agile hybrid cloud infrastructure featuring Nutanix Enterprise Cloud Platform along with Nutanix Xi Leap (DRaaS), Cisco networking, and AHEAD services to complete the solution
Cleco Power
Keeping the Power on by Proactively Managing Enterprise Security with AHEAD Managed SOC
Cleco is an electric power company headquartered in the Central Louisiana. It operates a regulated electric utility business serving 300,000 customers in Louisiana. Client operates in a high-risk, highly regulated environment with an understaffed security team that was without a CISCO or security director. Their systems had not been patched in multiple areas, they had no active security monitoring capabilities, and all cybersecurity responsibilities were managed by a single-threaded resource.
AHEAD conducted a Cybersecurity Maturity Assessment and implemented Managed SOC to provide 24x7x365 monitoring and cybersecurity operations oversight. Also, Managed Patch Management and Automation was implemented to effectively maintain a secure posture. Client executives are provided with robust security reports regularly for oversight and decision-making purposes.
National Fast-Casual Cafe Chain
Better Data Management and Edge Computing Transform Café Operations and Customer Experiences
Client is a bakery-café fast casual restaurants with over 2,000 locations across the United States and Canada.
Every Client location uses a core set of applications to operate the business, including order taking and payment transactions, inventory management, loyalty program and store operations. Unfortunately, maintaining the core applications caused location and nationwide system outages, negatively impacting business operations and customer experience.
AHEAD implemented a multi-faceted solution including network routers with embedded compute capabilities, a container platform technology to package, distribute, and run applications, assigned store analytics and reporting apps to the core, while moving order, loyalty, and payment apps to the edge and added APM tools to Core and Edge tiers to better command and control.
Large Midwestern Health Insurer
Repairing, Optimizing and Migrating Huge Datasets to the Cloud to Unleash New Capabilities
Client is a not-for-profit health insurance provider with more than one million members offering healthcare, dental, life insurance and Medicare coverage to citizens of Missouri. Client had been trying to migrate legacy Sybase data infrastructure to Microsoft SQL. Despite 3 prior attempts dating back to 2012, the project was stalled due to the complex and inconsistent ancillary code that was interacting with the database.  Over 30,000 objects had to be identified and remediated, causing delays, funding issues and executive sponsorship challenges.
AHEAD's team of cloud and data experts successfully engineered the data migration to Microsoft SQL Server, transitioning all DevTest, claims processing and Client's new data lake into Azure. This was a complex and difficult project requiring technical expertise, attention to detail, and patience.
Large Western US Energy Services Provider
Next Generation Data Analytics and Applications Powered by Integrated Data Environments
Client is a leading electric and natural gas energy company serving 3.4 million electricity customers and 1.9 million natural gas customers across Colorado, Michigan, Minnesota, New Mexico, North Dakota, South Dakota, Texas and Wisconsin.
Client has made digital transformation of their enterprise a strategic priority, to operate more productively, better serve their customers and future-proof their business. The Digital Operations Factory (DOF) is a program focused on data, analytics, and end-user cloud applications, which requires robust data integration between on-premise and cloud-based data platforms.
AHEAD was retained to architect, design, and implement a high-throughput data integration solution that binds on-premise platforms to newly established cloud-based data-centric functionalities. AWS-hosted Confluent Kafka ecosystem on VMWare Tanzu was selected and a production data pipeline was established between on-premise SAP and AWS S3 storage and Lambda to support the bi-directional transfer of key data.
Large Midwestern Energy Services Firm
Cloud-native Data Capabilities Unlock New Usage Forecasting and Investment Insights
Client is a diversified energy firm focused on electric power generation and distribution, natural gas distribution, industrial energy services, renewable natural gas, and energy marketing and trading.
Client realized the opportunity and benefits that a cloud-native data platform with analytic capabilities could provide for their business to forecast customer demand.
Based on an existing investment in Microsoft Power BI in their datacenter, they chose to work with Microsoft. Now the real challenge began; how to quickly and securely build an Azure Foundation Infrastructure.
AHEAD conducted a thorough needs assessment, engaging with IT and business stakeholders as well as vendor partners to stitched together a cloud solution encompassing  network security, storage, server, application and architecture. AHEAD built the Azure Foundation in 2 weeks, with onsite experts to successfully deliver and launch on time.
Executive Vice President, Sales
Why are you passionate about tech?
"I love the speed of change of innovation that tech provides. Constantly breaking how things WERE done with HOW things can get done."
Senior Technical Consultant
Favorite quote: "Success is not final; failure is not fatal: It is the courage to continue that counts." -Winston S. Churchill
Vice President, Technical Sales
Fun fact: "I played AA ball for the New York Mets as a junior and senior in high school."