Converged Infrastructure is Dead? Say It Ain't So! (Hint: It Ain't So!)
As the Converged Infrastructure (CI) and Hyperconverged infrastructure (HCI) practice lead at AHEAD, I spend a significant portion of my time evaluating and designing solutions that include Dell CPSD (Converged Platforms and Solutions Division) components. In my last post, I introduced Dell's primary pillars of CI/HCI, notably VxBlock (CI), VxRail (HCI), and VxRack (a bit of CI and HCI). In this post, I am going to focus in on VxBlocks and Vblocks, providing an update on the products themselves, as well as providing my opinion on how I expect these CI products to fare during the HCI frenzy that we are currently in.
A Quick CI-Based History of Dell EMC
Dell CPSD, originally named Acadia (and then subsequently renamed several times over the years), was founded in 2009 through a partnership between Cisco, EMC, and Intel. The initial goal of the company was to provide what is now known as reference architectures, by combining Cisco networking and compute hardware with EMC storage and VMware software. This first iteration of Dell CPSD's offering involved shipping the components to the customer's location and assembling the gear onsite. Although this reference architecture approach provided some benefits, it was nowhere as impactful to the industry as Dell CPSD's current converged infrastructure offering.
Dell CPSD first established its now dominant foothold on the converged infrastructure space with the release of its Vblock 300 and 700 series in 2011. By then, Cisco UCS blade servers, which had been released in 2009 and integrated into VCE's products, were gaining significant market share both within and outside of Vblock sales. VCE also refined its manufacturing processes and met ISO 9001 requirements which included assembling, testing, and applying logical configurations to Vblocks at the factory.
Dell CPSD is now the market leader of the converged infrastructure space with over $2 billion in revenue in 2015 (VCE reporting in 2016 was merged into EMC's total numbers). In comparison, legacy Dell has been an active participant in the reference architecture and validated design space, but it has not had a true converged infrastructure solution offering. Now that the two entities are combined into one, Dell EMC is uniquely positioned to offer solutions across all architectures.
The history of the company, at least from a naming perspective (see below), may have changed many times over the last seven years, but one should recognize the success of the approach to market that has led to the $2B+ in annual revenue (incarnation of company notwithstanding)!

Vxblock vs. Vblock
Before we dive into the products, I wanted to quickly address Vblocks vs VxBlocks. The reality is that these two terms confuse most customers, some partners, and even many of the folks inside the manufacturers. The reason why the term VxBlock exists is because "Vblock" is a trademarked legacy of the original EMC / Cisco joint venture – which must include Cisco server and networking components only. This effectively prohibited Dell CPSD from selling Vblocks with NSX installed from the factory which was part of EMC's attempt to launch its Enterprise Hybrid Cloud and ship fully configured. Vblocks on the other hand can be sold with Nexus 1000v from the factory, although this has never been mandatory and most traditional Vblock customers leverage VMware Distributed Switching instead of NK1V. Note that many customers have NSX running on Vblocks, customers can do whatever they want to their Vblocks after they are delivered, while still enjoying the benefits of Vblock.
Aside from that detail, VxBlocks and Vblocks are exactly the same in all aspects, except for the "x" between the "V" and the "B" on the side panels and cabinet doors. For a little while in 2016, VxBlocks allowed for slightly more hardware flexibility than Vblocks, and ever since, I have tended to default to building solutions around VxBlocks rather than Vblocks. But in all honesty, they are (and have been for a long time) identical and offer the same value and experience (unless you want to have NSX installed in the factory). From the perspective of this and other blog posts that I write, please assume that VxBlock = Vblock.
What is a VxBlock/Vblock?
A VxBlock is a true converged infrastructure solution composed of Cisco networking and compute, Dell EMC storage, and VMware vSphere. It can be thought of as a data center in a box, where your network, compute, storage, storage fabric, and out-of-band management elements are delivered in pre-configured and pre-cabled data center cabinets. This is made possible by requiring that the system (and it is a system) is built in the CPSD factory using ISO compliant processes both for physical (racking, stacking, cabling) and logical (installing and configuring vSphere, storage arrays, etc).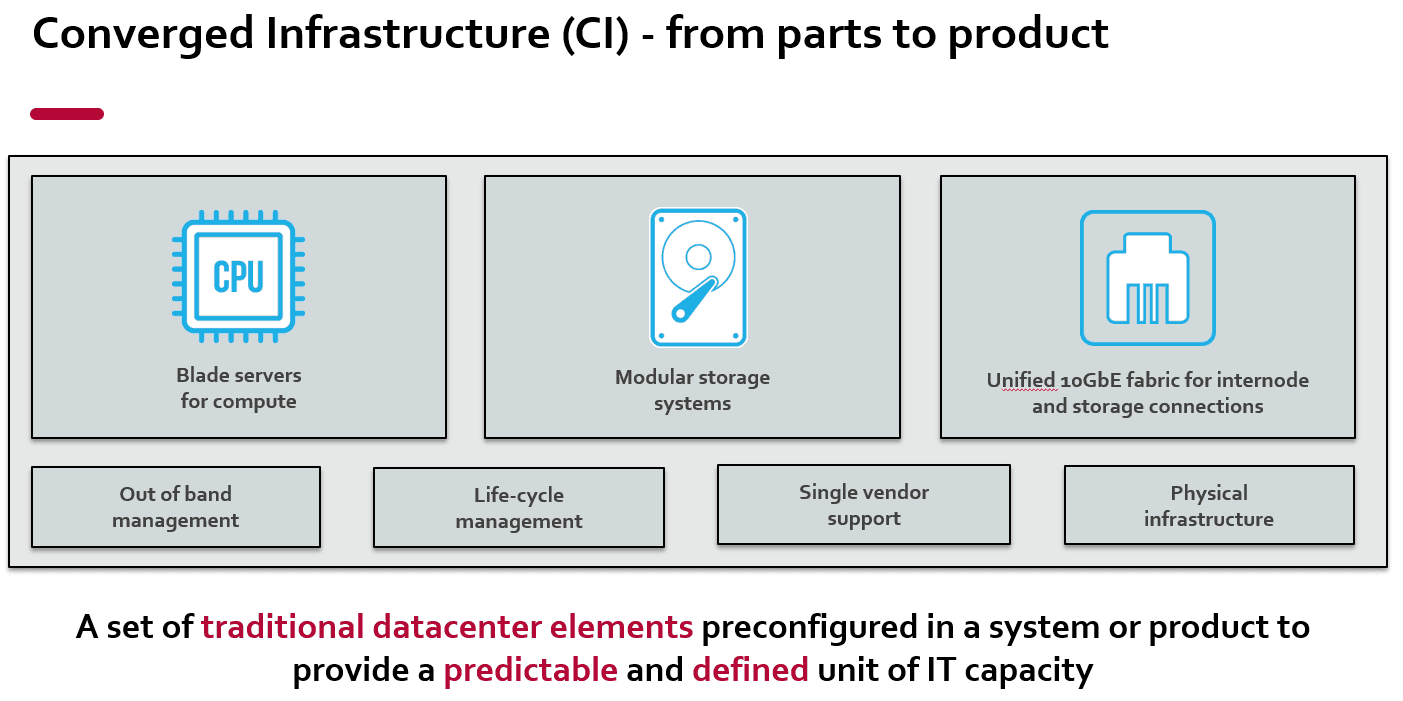 The traditional Vblock has expanded to include much more than blades, storage, and fabric to now offer additional options through Tech Extensions, which include additional Dell and Cisco products like data protection (Data Domain / Avamar / RecoverPoint / VPLEX), scale-out file (Isilon), rack mount servers (think Cisco C-Series servers to support Gfx acceleration), as well as supporting multiple storage arrays, network switches (for demarcation), or server domains (for availability zones / discrete use cases) inside Vblocks, while still maintaining the pre-configured single appliance approach. The example below is an example of how a single Vblock architecture (that AHEAD implemented) can contain many storage/compute domains.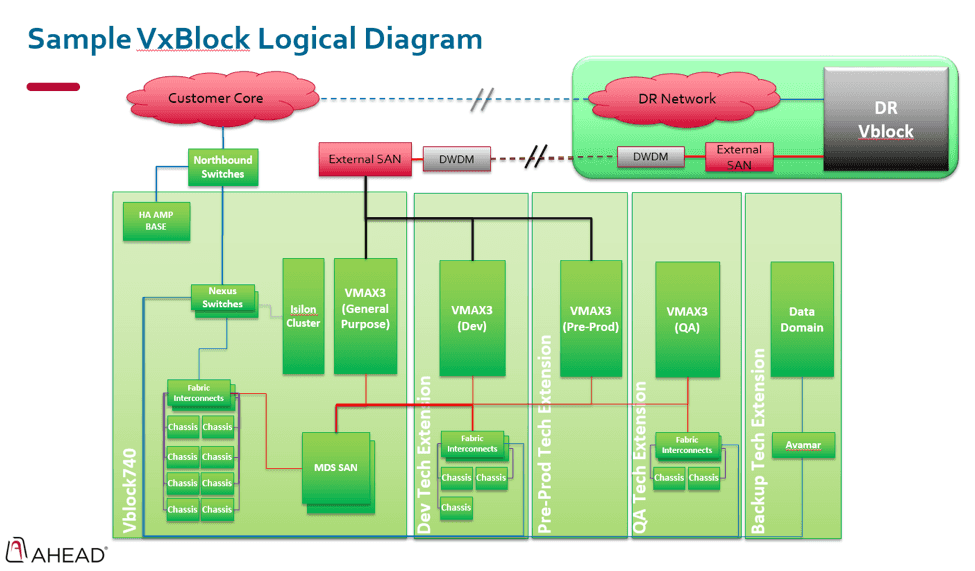 The level of pre-configuration is so significant that it typically takes us only a couple of days to turn over a Vblock to a customer from the time that it arrives at the data center, regardless of complexity. This might not sound incredibly fast if you are used to HCI, but even when you compare it to HCI, it is fast if you understand that a Vblock can be shipped with four blades and 5TB of storage, or 200+ blades and petabytes of storage; in either case, the time to deploy is similar.
The factory build also gives Vblocks an edge over reference architectures because it ensures that a consistent ISO build process is always followed, and therefore, a consistent configuration is created. This consistency results in higher stability and faster response time to issues (if you know exactly how a data center is configured, you are going to resolve issues more quickly). This also ensures that the Dell CPSD approach to single vendor support can be delivered well, given a consistent and uniform deployment methodology.
Finally, Vblocks also offer lifecycle management through release certification matrices. This basically means that you get a workbook outlining what you should patch, to what level, and in what order to ensure uptime and avoid outages. I want to stress that this process, like any major software / firmware updates applied to large systems, is complicated – and is not always perfect. That said, the fact that you get a runbook on how to do it is lightyears better than being responsible for comparing hardware compatibility guides across 50~ software and hardware components to get to a matrix that doesn't have any conflicts, and then after that, being responsible for figuring out the order in which you should go about applying these updates.
Vblocks for Small Workloads
Prior to the boom in the HCI market, CPSD offered a variety of Vblock products whose primary point of distinction was based on its relative scale and primary storage array. Smaller workloads were served by a Vblock 100, which had Cisco rack mount servers and a VNXe. Slightly larger workloads were served again by a Vblock 240 which has Cisco rack mount servers and a VNX5200. Due to the rise of HCI and the relatively high cost and complexity of Vblock 100s, that platform is no longer sold. You can address that type of workload much more efficiently with a product like VxRail. We haven't seen it yet, but we expect the Vblock 240 line to be cancelled and replaced by VxRail due to the same reasons.
Should this be a concern for Dell CPSD? Absolutely not. The reality is that the VB100 and VB240 product lines were never very popular and VxRail is a perfect use case for smaller workloads.
Vblocks for Mid and Large Workloads
The next Vblock tier is the Vblock 350, which is based on the Unity storage platform. This is likely the most popular Vblock platform because it provides large scalability at a lower storage cost point than XtremIO or VMAX, even for the all-flash unity tier, and it offers both block and file support from a unified array. With a maximum advertised compute footprint of 256 blades, this platform can easily address large-scale enterprise workloads.
Workloads that require the highest performing tier of storage, or that benefit significantly from compression and deduplication services, are best served by the Vblock 540 which is based on Dell EMC XtremIO. The VB540 also has a maximum advertised compute footprint of 256 blades, which is based on 8 XtremIO bricks. Aside from the storage, the other components (compute, network, storage fabric) are typically identical to that of the VB540.
Finally CPSD offers the VB740, based on VMAX, for the workloads that require the highest level of uptime and/or scale. VMAX, like top-tier storage arrays from other major players, is typically used for workloads that require a combination of high performance, high levels of control, and the highest available uptime. We have historically seen customers invest in this platform for mission-critical workloads, as well as an alternative to XtremIO for situations where the data set does not deduplicate well, but that still requires very high performance.
Which Path is Best for My Organization?
In typical consulting fashion, I tend to say that it depends! I spend a considerable amount of my time with customers helping them tease out workload and organizational requirements to help guide them to the most appropriate architecture and platform.
Some of the workload attributes that tend to align to a CI strategy include:
Bare metal support*
Integrated NAS support*
Active/Active Replication*
Large Asymmetrical workloads (big storage, small compute, or vice versa)
Application Certification (Epic, HANA, etc)
Mission Critical (5-6×9 uptime) applications
The last point is critical.  Many vendors today tout "the old way of doing IT with SANs and separate storage, network, and compute is old and stodgy." That is one viewpoint. However, for many enterprise organizations, stodgy also means that these types of solutions are tried-and-true, and are built on a legacy of infrastructure and code development that is still relevant in the marketplace.
Some of the attributes that I see aligning with HCI include:
General virtualized environments (that can run on dual-socket hosts)
ROBO / small workloads
DMZ / physically segregated workloads
Load balanced or otherwise scale-out systems like VDI
In terms of goals and strategy, organizations that are pushing heavily on automation and orchestration, on building their "private cloud" with Amazon or Azure, appreciate inherent properties of HCI. This is due to the intrinsic simplification and automation of the products and due to the scale-out nature that abstracts legacy barriers like whether to put workloads on storage array A or B.
*For the features that included an asterisk, I want to call out that I know that some, and soon most, HCI products can check these boxes. However, for many organizations, especially for the requirement of active/active, the solution must be bullet proof and proven. Although I can create a stretch cluster with VSAN, for example, I can't convey the same level of confidence of that architecture to that of VPLEX that has supported 1000s of active/active stretch clusters running critical workloads.
And as you can see, one can, in fact, address most of the attributes I listed for CI platforms with HCI. This just goes to show that HCI is very quickly reaching feature parity to that of traditional three-tier architectures. We probably won't see HCI rushing to support bare metal for less common operating systems, but just like the arguments against virtualization a decade ago, the arguments against HCI are becoming weaker as the HCI market and the platforms that represent it become more mature.
VxBlock and the Broader Market
Now that I've covered the VxBlock platform, how does it compare to the broader CI market, the even broader reference architecture / validated designs market, and the more general compute and storage market?
Within the CI market, I do believe that VxBlock is the most effective and competitive platform for general workloads. It is the only platform that is built in a repeatable fashion, that offers true single vendor support, and that offers lifecycle management. I'll give a nod to Oracle Exadata as a solid platform, specifically for Oracle workloads, but it's not a platform that I'd ever recommend for general purpose data center workloads. While HPE and HDS have both brought product to bear in this marketplace, neither company's offering was founded with the ethos that Vblock was by VCE originally – and their products do not enjoy the support (internal, engineering, or sales) that Vblocks have always had.
My expectation of VxBlock and CI is that both the specific product, and the CI market, will continue to grow as more customers shift investments from DIY and reference architecture to CI. That said, I do expect that growth to slow down, as the lower (smaller)-end workloads that in the past would have been placed on a smaller CI stack, are now more likely to be placed on an HCI stack. And as HCI continues to mature and be more widely adopted, I expect to see additional pressure against growth of the CI market, and indirectly of VxBlocks.
I am planning two more blog posts in this series, specifically around Dell EMC's approach to the HCI space, as well as to better understand Dell's legacy reference architecture and validated design approach.
In Conclusion: Fear, Uncertainty, and Doubt
Publishing this post around use case and health of Dell EMC's Vblock product line would be remiss without commentary around the current state of the Dell EMC and Cisco market relationship. There is much "FUD" (fear, uncertainty, and doubt) not only in the marketplace,but sometimes also within various field sales teams at both Dell EMC and Cisco.
Prior to the Dell acquisition of EMC, the Cisco and EMC relationship was consistently strong, notwithstanding competition between Cisco and VMware on virtual networking and cloud approach. With the acquisition, the overall relationship becomes more clouded. Where Cisco and EMC partnered well with limited overlap in the past, Dell and Cisco now have many competing product lines:
Cisco UCS vs. Dell PowerEdge
Cisco Networking vs. Dell Force10 (and NSX)
Cisco HCI (HyperFlex) vs. Dell VxRail and DellXC (Nutanix)
Cisco CloudCenter / UCS-Director vs. VMware's Cloud Suite
Cisco ACI vs. VMware NSX
Some people believe that DellEMC will be moving away from support of Vblock because of a desire to promote VxRail, DellXC, or general PowerEdge infrastructure. Other people believe that Cisco will move away from DellEMC because of competition to sell ACI, UCS, HyperFlex, and Cisco storage systems. We can all hope that Dell EMC will not launch a VdBlock – a laughable product name that can sometimes be the result of the FUD that is flying around.
While this FUD may exist in the field at a low level or within camps that do not see the value of CI, the following beliefs are accurate:
Executive Dell EMC management has publicly committed to Vblock.

Executive Cisco management is has publicly committed to Vblock.

Dell EMC and Cisco have a strong history of success and continue to maintain a strong contractual relationship that has been in place since the end of the original VCE joint venture which is set to auto-renew. All indications point to a strong belief that this relationship will continue.
Cisco will not walk away from a product in which ~20% of all global UCS sales (and significant Nexus and MDS business) take place.
Dell EMC will not walk away from a product with approximately $3B~ annual run rate, thousands of installs, and a very successful product history.
Vblock continues to be an excellent platform for Cisco's cloud story including ACI, CloudCenter, and UCS Director to help clients build the total Cisco cloud story.
Vblock continues to be an excellent platform for Dell EMC's Enterprise Hybrid Cloud story including the VMware Suite of vRA, vRO, vSOM, and NSX.
Brett Foy, AHEAD's General Manager of Engineering, recently reached out to Chad Sakac, President, Converged Platform and Solutions Division at Dell EMC, to discuss and confirm Dell EMC's direction with regard to its ongoing strategy in the marketplace. We believe that Chad's words below align to what we have seen and why our clients and prospects should continue to consider CI as a valid architecture for the right use cases:
"Dell EMC, via the creation of VCE eight years ago in partnership with Cisco, created the category of Converged Infrastructure. Today we lead the market by a huge margin – multiples of the next closest competitor.  Our partners like AHEAD have been part of that journey with us from day one. Today we're also extending that to the categories of Hyperconverged Appliances and "composable" Rack-Scale systems. The reason customers are choosing the converged and hyperconverged infrastructure path has never changed: the industry is at a point where server, network, and storage are commodities to be consumed – and standardization leads to speed, to simplification, to automation. Customers are realizing that they need to stop the insanity of building at the component level if they want to move faster. Our "brand promise" of VxBlock, VxRack, and VxRail is also our true north, our guiding star: when customers pick converged and hyperconverged infrastructures – they are choosing to "get out of the infrastructure business"– and we and our partners like AHEAD take on that responsibility. That formula, born in partnership with Cisco, is working. Customers are voting with their dollars. We're in absolutely no rush to change a formula that is working great. Furthermore, when a customer picks converged or hyperconverged infrastructure from us, we are signing up for the full lifecycle. PERIOD. More than the many public commitments from Cisco and Dell EMC senior executives, more than our joint support agreements, more than our joint business agreements and contracts – the reality that when you choose converged infrastructure, you aren't choosing ingredients and that you are choosing a partner who will own the responsibility of the full infrastructure stack for its full lifecycle. THAT is why customers can move forward with VxBlock with confidence."

– Chad Sakac, President, Converged Platform and Solutions Division at Dell EMC
Brett also recently spoke to Tim Rod, Director of Business Development at Cisco. Tim is primarily responsible for the Dell EMC relationship with focus on continued strength of the Vblock relationship. The discussion with Tim confirmed Cisco's direction with regard to its ongoing strategy in the marketplace and strength of partnership with Dell EMC. Overall, this conversation was very positive, and Tim provided the following comments as to the Cisco and Dell relationship:
"Dell EMC and CPSD executive management continues to publicly and internally message the strength of the relationship with Cisco, and the intent to continue investment and growth of the partnership. Cisco continues to invest in the Dell CPSD relationship, field enablement of the Cisco sales team with regards to Vblock, and joint solution development (of both time and money) to work closely on future engineering with Dell. This tight engineering alignment and investment for both current and future technology investment demonstrates Cisco's firm commitment to this space and this partnership."

– Tim Rod, Director of Business Development at Cisco
AHEAD's view is that Vblock is still supported by both companies; it continues to profit both companies and both companies are and should be behind the Vblock product sales. When the technology and business use case applies – Vblock is a solid option in the marketplace and will continue to make sense as long as mission critical workloads continues to run in the data center!
Contributing Author: Yon Ubago