Get Acquainted with the ServiceNow Workplace Service Delivery Suite
As organizations navigate the ever-changing ways of working, there is a growing need for simple ways to manage and utilize offices and workspaces more efficiently. ServiceNow's Workplace Service Delivery (WSD) Suite was created just for that. Within one portal, employees have access to virtual office space floor plans, self-service workplace reservations and requests, preparation workflows for business visitors, and more. The WSD Suite isn't a 'one size fits all' solution—each of the WSD applications can be applied independently or altogether. Below, we'll explore each of the main components of the WSD Suite and the benefits therein.
Reservation Management
With a large number of employees returning to offices following months of remote work due to the COVID-19 pandemic, many organizations have recognized the need to reimagine how 'traditional' offices function. While this may be no simple task, companies can streamline the transition process with the help of ServiceNow's self-service Reservation Management portal. Here's how it works: Once an organization's relevant office space data (regions, campuses, buildings, meeting rooms, individual desks, etc.) has been imported into ServiceNow, employees have access to create self-service reservations for any type of space available and even synchronize the reservations with their calendars. Workplace management teams can control many aspects of the reservation process through modules which, in ServiceNow, serve as categories for each type of reservable space (e.g., 'desks within open areas' or 'conference rooms'). Some configurations that can be made for each module include:
Approval requirements
Check-in and check-out requirements
Standard services for spaces (e.g., TVs, video conferencing)
Flexible services for spaces (e.g., catering, furniture, IT support)
Option to add additional fees for these items
Regions and locations
Employee access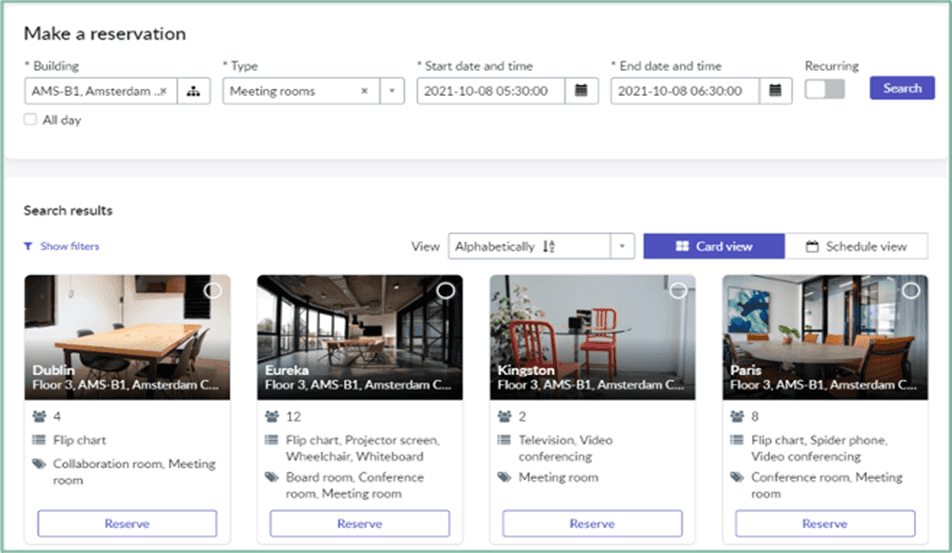 Space Mapping
Another component of WSD that both complements and enhances the Reservation Management application is the option to create virtual maps for the portal. ServiceNow has partnered with MappedIn to provide a seamless integration experience with the ServiceNow system. The first step is for MappedIn's team to work with an organization's workplace stakeholders to upgrade their existing floor plans from 2D to simplified, user-friendly 3D maps. Once the 3D maps are created in MappedIn's CMS, the organization has access to MappedIn's self-service developer tools, allowing them to make changes to their maps at any time. For example, if a space is temporarily out-of-order, a workplace manager could go into the MappedIn Editor and update that on the corresponding map in real time. Once the 3D map files are to the organization's liking, they can be imported into the ServiceNow system using the organization's MappedIn account credentials. This will enable the organization to:
Reserve parking spots
Reserve meeting rooms
Reserve a desk in an open area
Find amenities
Report an issue with workplace services
Access in-office turn-by-turn navigation
Case Management
Did you spill something in the conference room? Do you need to move an employee from one office to another? Is today the day you're finally getting around to replacing that burnt-out lightbulb above your desk? The Case Management module handles all of an organization's workplace-related cases for issues and requests—everything from plumbing to pest control. As a company, they'll be able to decide which services and requests are needed to ensure that they are met in a timely manner and routed to the right team members. The organization will then have the option of managing these cases via three different fulfillment types:
Manually – administrators can manually assign tasks to fulfill the request after it has been submitted within the portal.
Flow – from SNOW's flow designer, the case can move through a pre-designed process.
Service Activity – a set of pre-defined approvals, tasks, and child cases are created for the case. These items are configured on the workplace service record and will be triggered automatically for all cases of this type.
Visitor Management
ServiceNow's WSD Suite also allows organizations to manage all guests within one system. The module manages pre-registration, internal tasks and approvals, parking assignments, wi-fi access, badge printing, and visitor status updates. Beginning with the submission of a request via the portal, employees can specify the dates of guest visits and even enter notes for administrators and reception staff. Through the visitor reception dashboard, the organization can track visitor registrations, the status of visitors that are on-site, expected visitors, and those that are on break.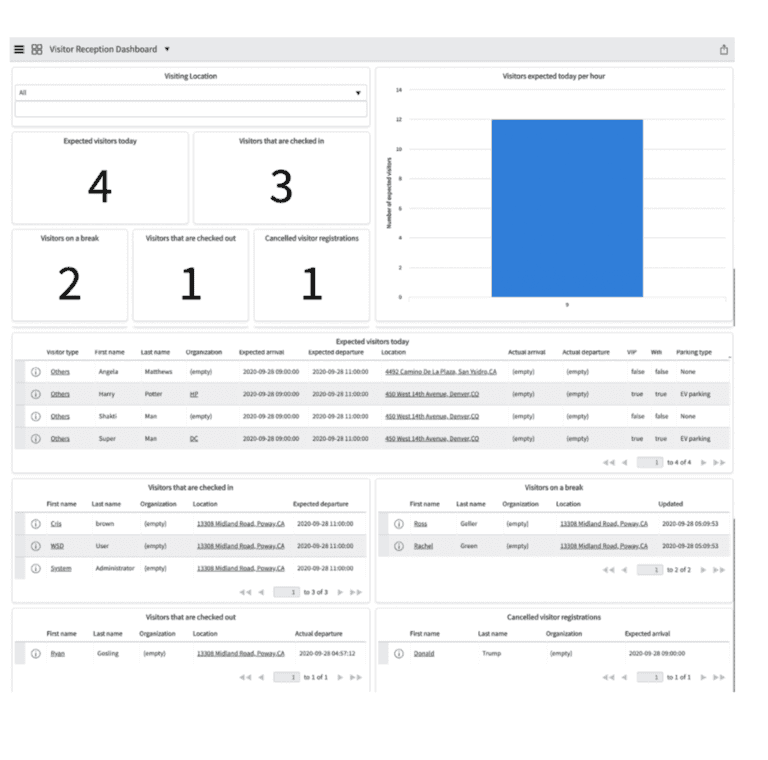 Conclusion
The Workplace Service Delivery Suite provides organizations with the ability to streamline the reservation, facility, and visitor management processes of their physical office locations. By allowing the applications to be implemented separately or together, companies can find the right solution that fits the precise needs of their team(s). To learn more about the WSD Suite and how AHEAD can help implement the best
ServiceNow solution
for your workplace needs, get in touch with us today.
Contributing Authors: Caroline Cooper and Erica Hawkins