Connecting Your Enterprise to the Cloud
At AHEAD, our superpower is stitching together our enterprise clients' environments to drive digital transformation. This not only allows our enterprise clients to transform at light speed, but also grants them the ability to do so with the enterprise guardrails required to securely run an environment.
This is no easy feat, which is why we're so pleased to be recognized as a launch partner—with the capabilities of building and designing the integration—between AWS and ServiceNow with the new AWS Service Catalog Connector for ServiceNow.
The AWS Service Catalog Connector for ServiceNow allows the seamless integration of AWS Service Catalog products directly to business users via ServiceNow Catalog / Service Portal. The AWS Service Catalog allows AWS administrators to create products (cloud infrastructure and application stacks) for their organization to automatically consume. In the example below, users can select the BagApi application to launch the application's newest version.
The BagApi product launches the entire application stack built on containers with automatic scaling to meet the demands of the business.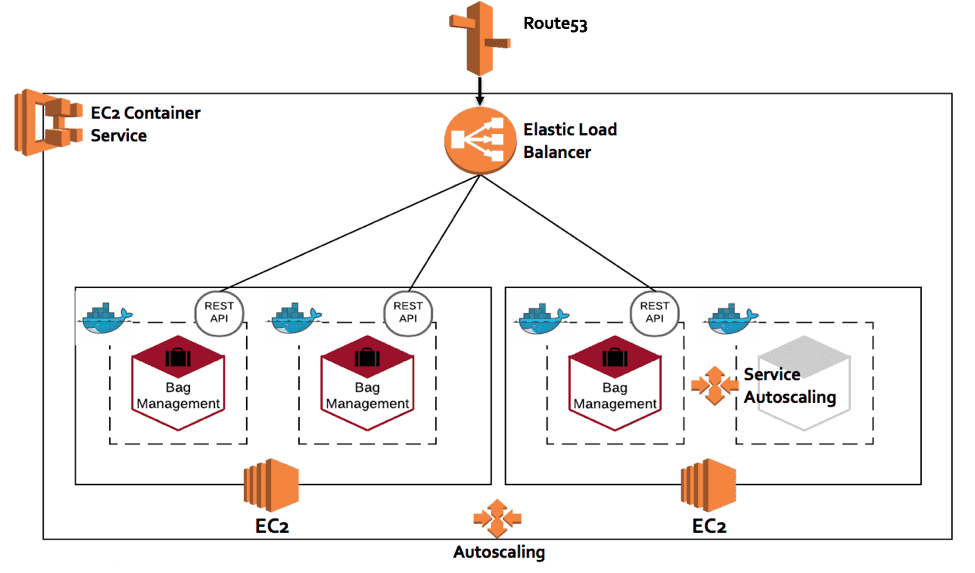 With the AWS Service Catalog Connector for ServiceNow, the products in your AWS Service Catalog are now available to end users and directly to the lines of business through ServiceNow. Your end users now have a centralized location to request, build, and track their service requests, and can request the same BagApi service in our example.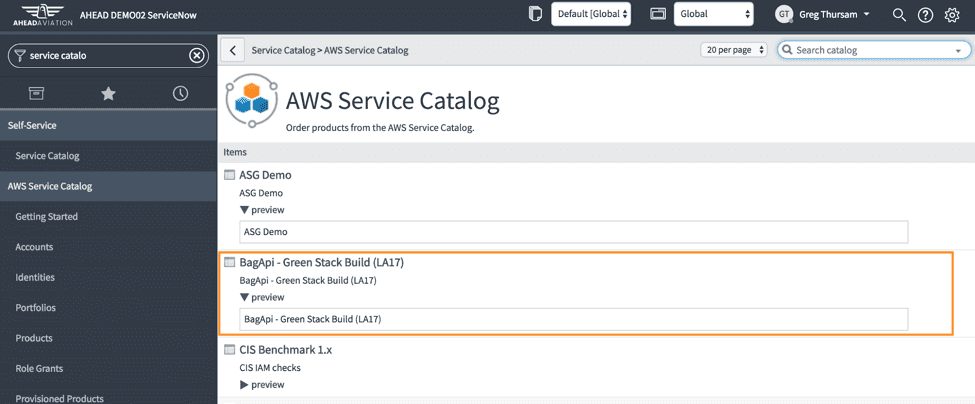 AHEAD is focused on enterprise cloud adoption by seamlessly integrating the automated service, operations, visibility, and security of your environment.  We have extended ServiceNow and AWS capabilities with a real-time portal for business units to request services, operations teams to manage, leaders to report, developers to integrate, and end-users to be added to the organization, all with a live feedback loop.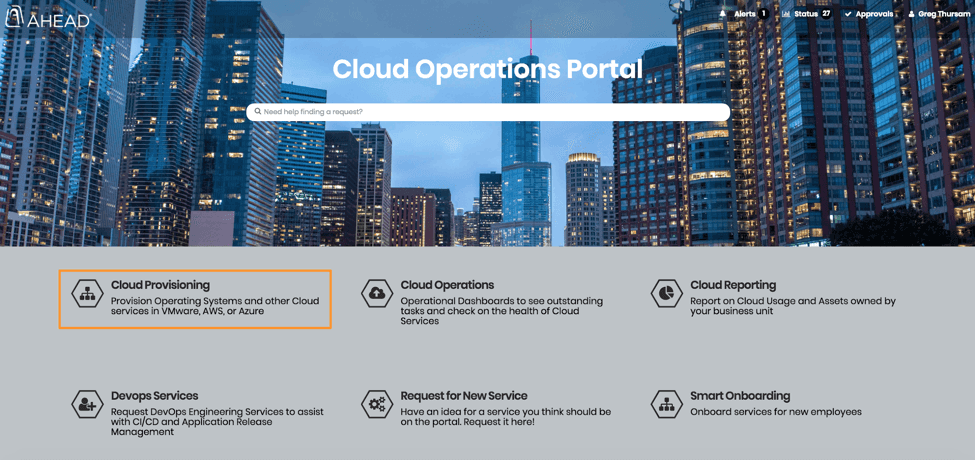 By extending the AWS Service Catalog – ServiceNow Connector to the CCoE Dashboard (Cloud Center of Excellence), we are allowing AWS teams to be agile and quickly develop new services and centralize requests to a simple web portal.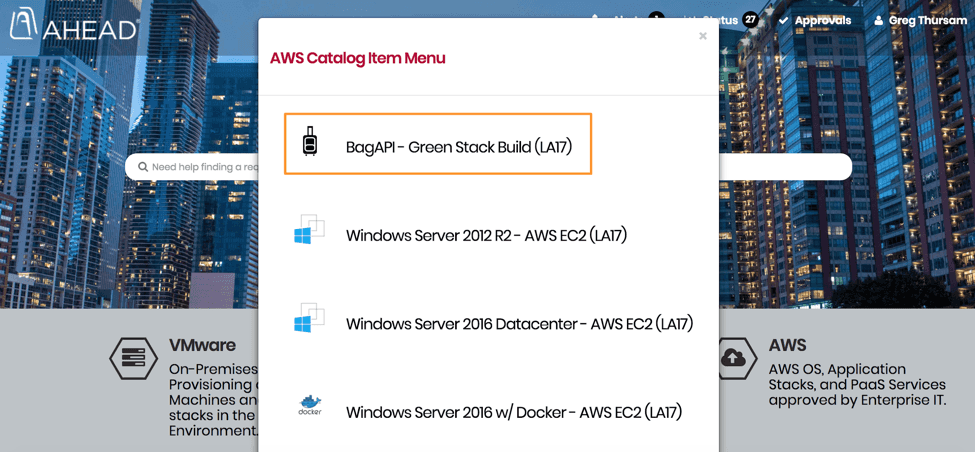 With AWS Service Catalog Connector for ServiceNow, enterprise customers can use their existing ServiceNow workflows and approval systems to procure and provision AWS services, enabling them to drive rapid innovation on their cloud journey.
Clive D'Souza, Global Head, Service Catalog Business Development, Amazon Web Services, Inc.
AHEAD is a longstanding partner and early investor in AWS and ServiceNow as a foundation for our Enterprise Cloud Delivery Framework, which we launched two years ago. Built on six pillars, the Enterprise Cloud Delivery Framework is designed to be an operating blueprint for organizations looking to transform.
Cloud Management, including Enterprise Service Management (ServiceNow), is the automation and operation nerve center of your enterprise cloud. Public Cloud—the foundation for your digital transformation—rapidly connects services to end users at a pace that's ever-increasing. The Enterprise Cloud needs to be responsive, elastic, and highly automated while offering full transparency into cost, inventory, and risk and must incorporate rigorous security and management practices.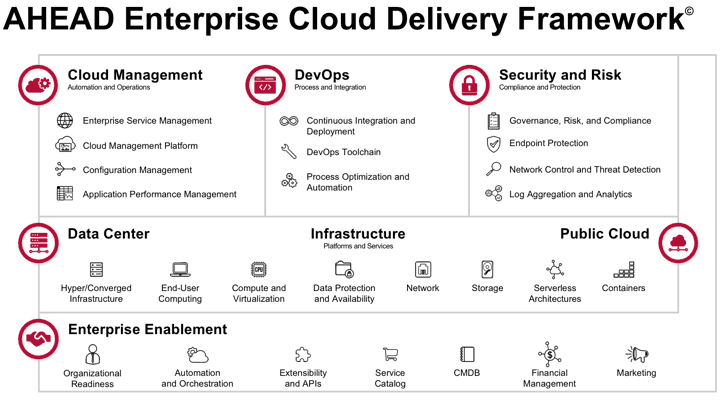 "At AHEAD, we focus on driving innovation for our clients to deliver speed and flexibility while ensuring the security, governance, simplicity, and cost savings required in the enterprise. Our investment in Cloud / Automation and ServiceNow has accelerated our clients' cloud transformation, which, in turn, has transformed their businesses. We are very excited about this new announcement as the ecosystem continues to integrate AWS and ServiceNow closer together, which has been a focal point for AHEAD for many years."

— Greg Thursam, AHEAD, Solutions Principal (AWS and DevOps)
If you are interested in learning more about how to build an enterprise cloud adoption, we would love to schedule a hands-on demonstration at the AHEAD Lab and Briefing Center. Contact your AHEAD Client Director or click here to schedule a personalized session tailored to the needs of your business.