Build Better Software, Faster
Our approach to digital engineering combines culture, tools, and process to continuously deliver software innovation while reducing complexity, and when combined with our intelligent automation and enterprise cloud capabilities, provides end-to-end solutions for clients who want to accelerate digital product development. 
Our Perspective
Watch our video to discover how we help in the world of digital engineering
Explore some of the core digital engineering solutions we work on
01
Cloud-Native Engineering
Design and create solutions with public cloud capabilities like containers, serverless functions, PaaS workloads, and managed APIs.
Streamline Build, test, and release processes to enable the continuous release of software in shorter iterations.
Infuse simplified and scalable Agile Ways of Working with Cloud-first architectures and modern data analytics and insights.
We partner with more than 200 leading innovators, including the top players in agile development solutions.
Advise, Transform, Operate
Example Services for Digital Engineering
We execute dozens of specialized services across our core digital engineering solutions. Whether through Advisory Services like assessments and strategy planning, Transformation Services like modernized deployments, or Managed Services like environment monitoring and support, we have tailored, end-to-end offerings to aid your agile dev initiatives.
01
Foundational Enterprise DevOps Toolchain
Finetune your current Continuous Integration / Continuous Delivery (CI/CD) DevOps Pipeline or introduce a CI/CD Pipeline.
02
Build net-new greenfield cloud native apps and modernize existing brownfield apps to become cloud native.
03
Managed Services for Applications, Automation, & DevOps
Rapidly deploy full-stack solutions, along with services that provide development, maintenance, and operational support for critical business applications.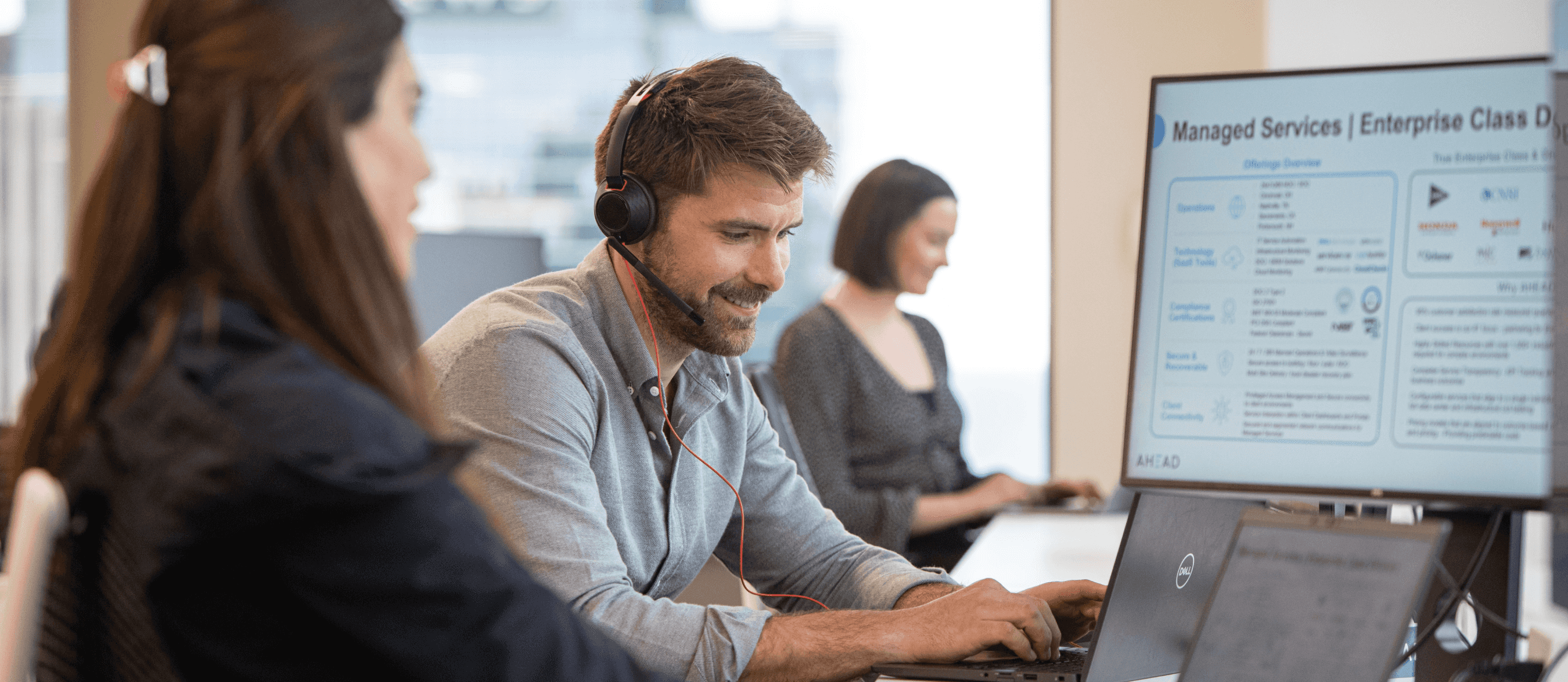 AHEAD's Agility Catalyst is a delivery framework that incorporates Agile development practices with modern DevSecOps principles to speed up and maximize the value of technology. Agility Catalyst differs from other scaled Agile frameworks - it infuses simplified and scalable Agile Ways of Working with cloud-first architectures and modern data analytics and insights.
Intelligence
Enable data-driven decisions by applying machine learning and data science to empirical metrics. Provide full transparency and reporting to all levels of the organization.
Efficiency
Align technology with business objectives, delivering solutions targeting actual business problems.
Agility
Achieve agility with or without organizational maturity with a lightweight, scalable framework that includes the MVP set of tools and processes. Complements existing frameworks (Scrum, Kanban, SAFe, LeSS, etc.)
Digital Engineering Client Stories